Save on the NiTin™ Sectional Matrix System with a Composi-Tight® 3D Fusion™ Firm Matrix Band Purchase!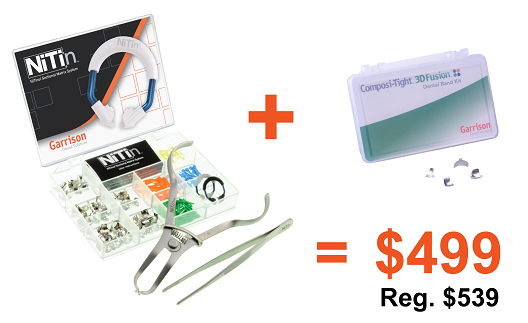 Try both our newest sectional matrix system and matrix bands for a reduced price! The NiTin sectional matrix system and the Composi-Tight 3D Fusion Firm bands are a must try!
Benefits of the NiTin sectional matrix system:
Matrix rings are optimized for long life and consistent performance
Matrix bands with ideal anatomy to recreate perfectly contoured contacts
Interproximal wedges that are firm yet gentle to sensitive papilla
Benefits of the Composi-Tight 3D Fusion Firm matrix bands:
Nearly 70% better at resisting deformation
Easier to insert interproximally
Five ideal sizes
Use code during checkout to receive offer: ON1119B (valid through November 18th, 2019)
*Offer available only on NTG-KMG-01 NiTin kit and FXHB06 Firm Band kit. Must place both items in cart before applying discount code. Not valid on previous purchases. Cannot be combined with other advertised specials. For U.S. direct customers only.