Garrison Dental Solutions has introduced an entire line of transparent matrices called Blue View™. The Blue View project is a major step forward in Garrison's goal to provide innovative solutions for every matrix need whether for Class II, III, IV or V restorations. An important feature common to all of the new Blue View products is their light blue tint, which provides much needed contrast between the transparent matrices and tooth structure without compromising composite polymerization.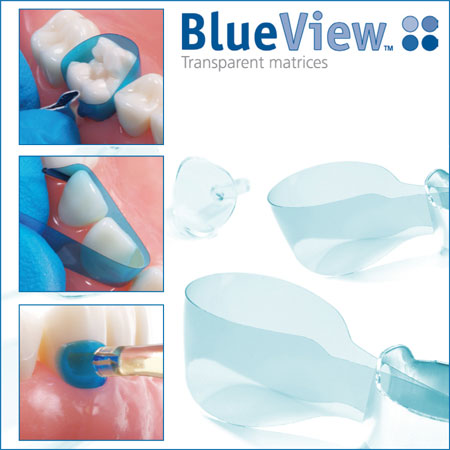 Blue View™ Cervical Matrices allow the clinician to simply fill, press and cure Class V restorations without an air-inhibited layer for faster, easier finishing. The Grip Strips™ anterior matrices are polyester strips with an integrated stop, which keeps the tail end of the strip firmly in place. Blue View™ Matrix Tape is traditional polyester tape for anterior Class III and IV restorations with one big advantage – with the blue tint you can actually see it. Rounding out the Blue View line are the Pinch™ Matrices for Class II restorations. These pre-contoured polyester Tofflemire style matrices have a built-in tensioning ring. Simply slip on around the tooth and Pinch to tighten. They're the fastest Tofflemire style matrix available.
Garrison Dental Solutions, makers of the well-known Composi-Tight line of sectional matrix systems, sells product direct to the dentist in the USA and through select dealers internationally. You can contact them toll-free at 888-437-0032 or on the web at www.garrisondental.com.