March 31, 2017
SPRING LAKE, Michigan – Garrison® Dental Solutions, the global leader in sectional matrix systems used for Class II composite restorations, is pleased to introduce a new sectional matrix system: 
Composi
-Tight® 3D Fusion™ Sectional Matrix
.
Garrison's new Composi-Tight® 3D Fusion™ Sectional Matrix is engineered to successfully complete a wider variety of Class II composite restorations.  This comprehensive kit includes three varieties of separator rings, five sizes of matrix bands, four sizes of interproximal wedges and a ring placement forceps.  Composi-Tight® 3D Fusion™ is indicated for use in posterior Class II MO/DO, MOD and wide preparation restorations.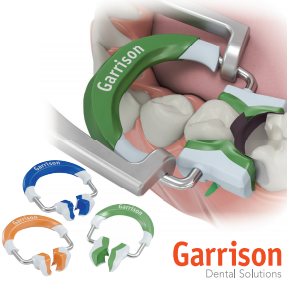 The new Composi-Tight® 3D Fusion™ system draws on Garrison's more than 20 years of sectional matrix leadership to produce their most comprehensive and easy to use system. The three-ring system consists of a short (blue), tall (orange) and dentistry's first wide preparation (green) separator rings.  All three incorporate Garrison's exclusive Soft-Face™ silicone tips for flash reduction and Ultra-Grip™ retention extensions that eliminate ring "spring-off".
Five sizes of ultra-thin, dead-soft non-stick sectional matrix bands have the addition of a Grab-Tab™ on the occlusal edge to simplify band placement and removal.  These are coupled with four sizes of Garrison's award winning Composi-Tight® 3D Fusion™ Ultra-Adaptive wedges.  These wedges feature soft "fins" that smoothly adapt matrix bands to tooth irregularities and prevent wedge back out.  In another industry first, Garrison has engineered a drop-forged stainless steel ring placement forceps that make ring placement significantly easier over the largest of molars regardless of hand size or strength.
Color coded and conveniently organized, the Composi-Tight® 3D Fusion™ Sectional Matrix System also has a complete selection of refills available.