October 11, 2016
Garrison's new FitStrip™ Interproximal Finishing and Contouring System provides clinicians with diamond abrasive strips necessary to successfully restore a very wide variety of cases.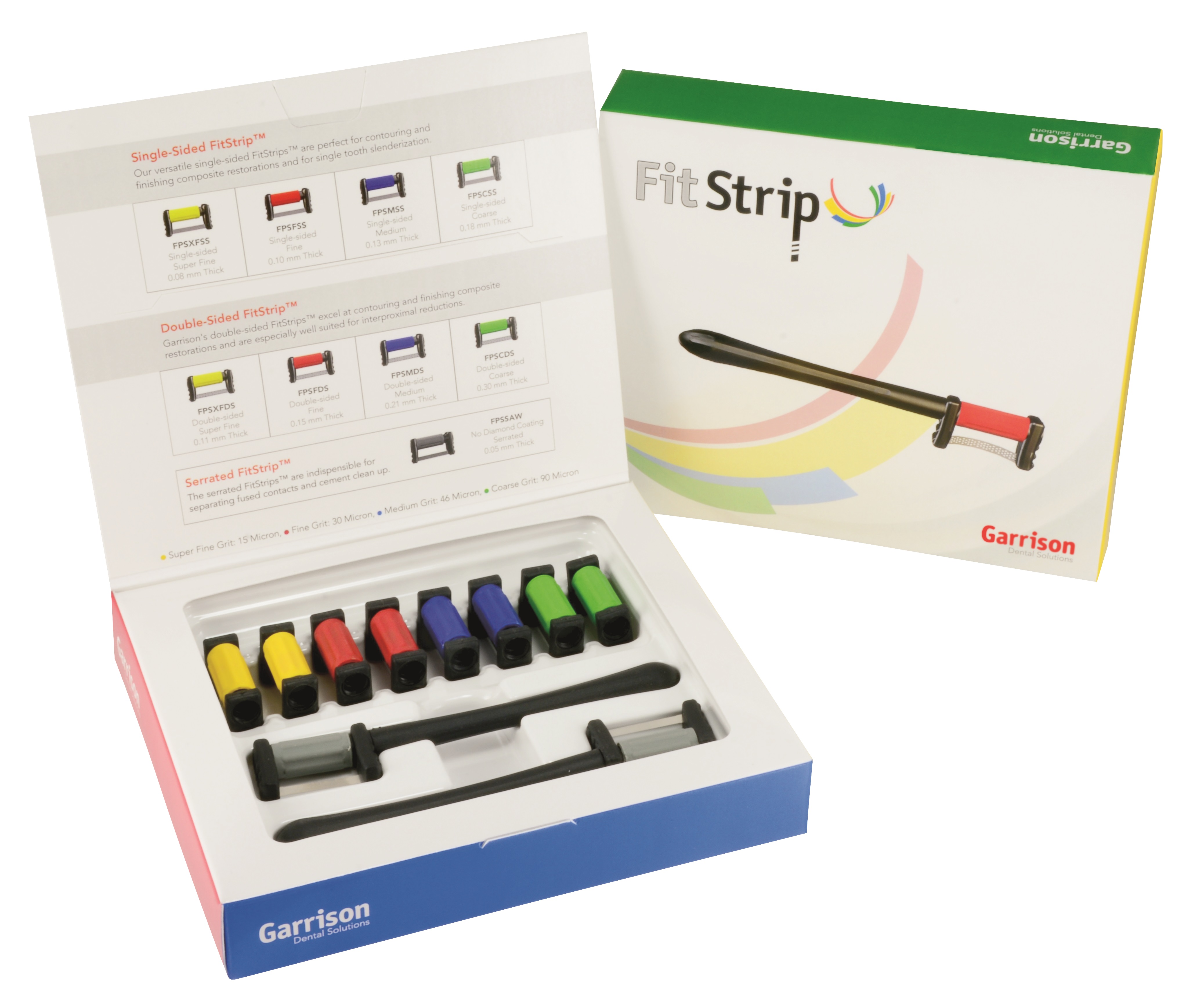 This comprehensive kit includes eight varieties of diamond coated abrasive strips, two interproximal saws and two interchangeable handles.   FitStrip™ is indicated for use in IPR, contact reduction, interproximal finishing and contouring, crown and bridge cement removal/clean up as well as separating inadvertently bonded teeth.
Both single sided and double sided strips are included and all the strips feature the unique ability to be adjusted from straight (for contact reduction) to curved (for interproximal contouring) with a simple twist of the color coded barrel thereby eliminating clinician hand fatigue.  The interchangeable handle easily attaches to any of the FitStrip™ components significantly improving clinician ease of use and patient comfort.  The clinician's hand stays outside the mouth providing a clear field of view and easier operation.
In addition, FitStrip represents the best solution for IPR (interproximal reduction), creating the space needed for minor movement of teeth when necessary.  Working in concert with orthodontic treatments such as Clear Correct™, Invisalign™, Six Month Smiles™ and others, the color-coded strips provide the roadmap for achieving the desired IPR quickly, easily and effectively.  No other system provides FitStrip's level of flexibility and ease of use.
Color coded and conveniently organized, the FitStrip™ Interproximal Finishing and Contouring System also has a complete selection of refills available.  Contact Garrison® Dental Solutions at 888-437-0032 or visit garrisondental.com for more information.